The department provides safe, ethical & evidence-based mental health care with compassion & dedication. We have a team of well-qualified psychiatrists and a social worker, to facilitate the implementation of a biopsychosocial model for assessment & treatment of mental illness. We constantly strive towards the enhancement of patient care & safety through continuous quality improvement initiatives.
Services Provided:
Comprehensive treatment is provided for a variety of common mental disorders, including

mood disorders,
schizophrenia,
anxiety disorders,
substance-related disorders,
adjustment disorders and others

Consultation-liaison psychiatry services
De-addiction services
Child psychiatry services
Geriatric psychiatry services
School and community outreach programs to spread awareness on mental illness and promote mental health
We provide Psychiatry training for MBBS students at various stages of their course.
All faculty of the department engage in regular activities pertaining to continuing professional development in order to maintain their knowledge and skills related to psychiatric practice, education & research methodology.
Facilities:
The Department of Psychiatry along with the Department of Community Medicine conducted an awareness program on "Handling Stress During Covid Times" on the occasion of World Mental Health Day, on Oct 15th,2020.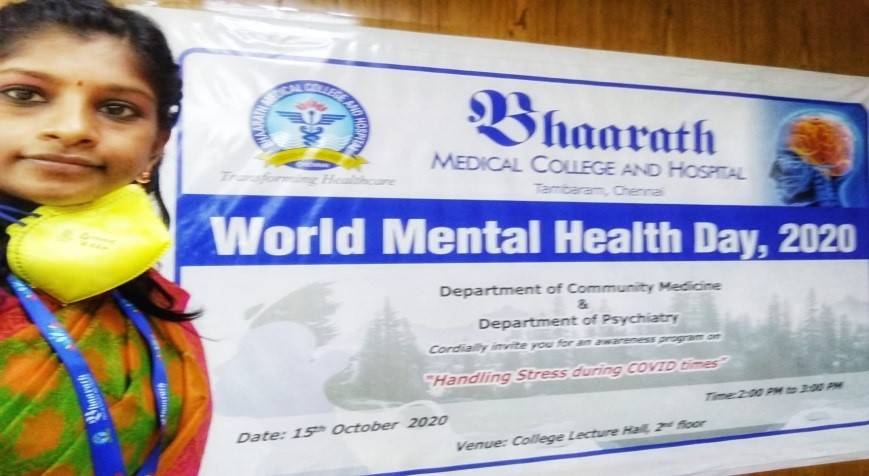 The Department of psychiatry conducted an awareness program about "Deaddiction and Drug Abuse among Adolescents" at the Government Higher Secondary School at Madambakkam on 6th March,2021 and our Psychiatrist Dr.Thiviya gave a talk and the social workers along with staff nurses enacted a skit about "Substance abuse and its consequences".